SCREEN
87% Screen-to-body ratio
73% thinner upper bezel
52% thinner sides
WEIGHT
<4lbs light
22% more compact
VAPOR CHAMBER
The vapor chamber evaporates and vaporizes liquid, facilitating heat transfer from the GPU and CPU and distributing it throughout the chamber for more  optimized cooling.
AUDIO BY
BANG AND OLUFSEN
Speakers custom tuned by Bang and Olufsen surround you in a rich
sound space so you hear music the way the audio engineers intended.
Featuring incredibly powerful speakers with 150Hz of bass.
STAY CONNECTED
WITH MODERN STANDBY
A completely revamped standby system means you're
ready to work the moment inspiration strikes.
With no sleep mode and no off mode, modern standby
keeps your rig connected and on demand whenever you need it.
QUIET.
COMFORTABLE.
MORE INTUITIVE
THAN EVER.
Used to working on a Mac? Now you can choose the Z Command Keyboard, which replicates a Mac layout, for a seamless switch.9 Enjoy greater responsiveness from our scissor mechanism with 1.3mm of travel. Plus, whisper-quiet rubber domes and anti-rattle brackets deliver a distraction-free typing experience.
MULTIPLE PORTS FOR MAXIMUM PRODUCTIVITY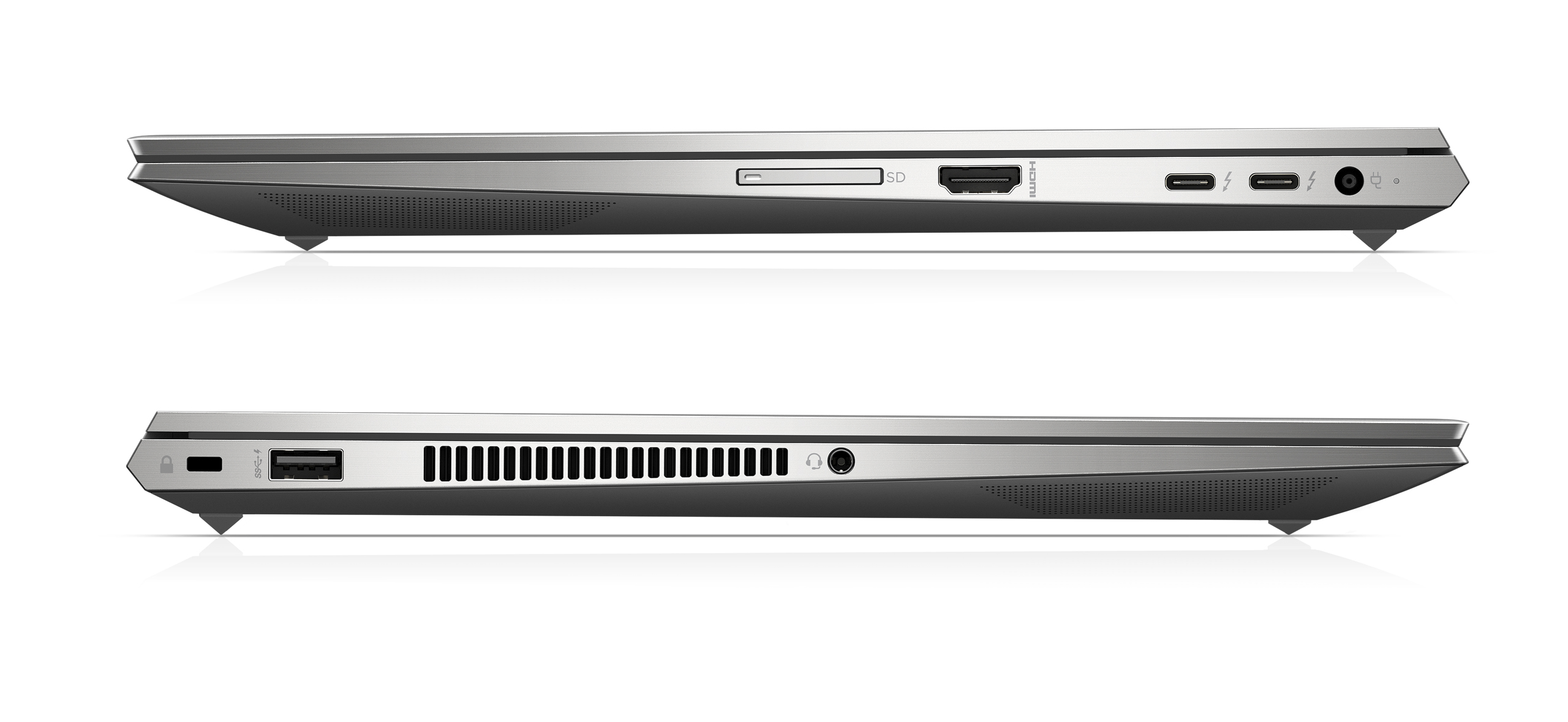 WINDOWS 10 PRO
Windows 10 Pro and security, collaboration, and connectivity features from HP help you power through your day.

PROCESSORS
Work at the speed of your ideas with the latest quad core Intel® Core™ i7 Processors and Intel® Turbo Boost Technology.

GRAPHICS
NVIDIA® Quadro® graphics for real-time visualization of multi-layered artwork and creative projects.

MEMORY
32 GB RAM Dual Channel Memory — twice the memory capacity of any other detachable PC.

FAST CHARGING AND LONG BATTERY LIFE
Enjoy peace of mind with up to 10 hours of battery life for maximum productivity and ultra-fast recharge (50% in just 30 minutes).

HIGH-SPEED STORAGE
HP Z Turbo Drive storage is 4X faster than SATA SSD and 14X faster than traditional HDD storage.
ONE LAPTOP FOR WORK
AND PLAY
With the performance of Z and the power of NVIDIA® GeForce®
RTX™, there's finally one device perfect for both work and play.
Whether you're rendering 3D or trying out the  latest title,
now nothing will slow you down.