CADMOUSE PRO WIRELESS
THE PRECISION ERGONOMIC MOUSE FOR CAD PROFESSIONALS
THE ULTIMATE WIRELESS MOUSE FOR CAD PROFESSIONALS
CadMouse Pro Wireless is the full-size mouse designed specifically for the modern CAD professional. Offering superior ergonomics, a dedicated middle mouse button, high resolution optical sensor, up to three-months use between charges*, and 50 million clicks-worth of durability for the daily use CAD specialist, CadMouse Pro Wireless is the mainstay of any CAD toolkit.

Ergonomic Design
Angled shape optimized for natural wrist positioning with a dedicated middle mouse button

Maximum Durability
High-quality, long-life switches made with resilient components and materials

High Performance
High capacity rechargeable battery and a high precision, optical sensor

Smart Mouse Wheel 2
Smooth scrolling and click-to-click zooming in CAD applications

Quick Zoom
Effortlessly zoom in-and-out of geometry with a single click

Radial Menu
Provides quick access to your favourite application commands
PROFESSIONAL ERGNOMICS DESIGN
Purpose-built for supremely comfortable use over long CAD sessions, CadMouse Pro Wireless feels completely
organic, with ergonomic features creating an experience that greatly reduces the muscle and tendon discomfort
frequently encountered during CAD sessions.

The Button for CAD Professionals
The middle mouse button is designed specifically for CAD users who require a third button to access their application functions. Using almost 60g less force than clicking a scroll wheel, the middle mouse button is ideal for CAD applications.

More Comfort, Less Strain
Designed with an angled shape, CadMouse Pro Wireless creates a more natural hand posture, reducing the muscle and tendon discomfort frequently encountered with traditional mice.

The Ideal Thumb Rest
Complementing its slanted shape, the incurvated thumb rest gives thumbs an ergonomically natural place to hold onto the mouse and easy access to its side buttons.

Concave Button Shape
The three main buttons of CadMouse Pro Wireless offer a concave design, sculpted to guild the fingertips to their ideal positioning, for an organic, natural feel.
A NATURAL EXTENSION OF THE HAND
The combination of ergonomic design features and intelligent software come together in a full-size mouse to create
an organically connected workflow you can feel.


50 Million Clicks

PTFE Feet


3 Years Warranty
DURABILITY TO LAST
The average CAD user clicks thousands of times during a standard workday. CadMouse Pro Wireless is designed to handle over 50 million clicks to its main buttons, giving users mechanical longevity a CAD professional should expect from a premium CAD product. Low friction, wear resistant polytetrafluoroethylene (PTFE) feet give CadMouse Pro Wireless smooth, precision movements long after the average mouse. A 3-year warranty combined with built-to-last design means CAD professionals will experience years of high-quality CadMouse Pro Wireless use.

Optical Sensor


Poll Rate


Rechargeable


3 Months
HIGH PRECISION & PERFORMANCE
The precision optical sensor, high adaptive polling rate and specially developed polytetrafluoroethylene (PFTE) feet combine to create an experience of controlled performance that feels like CadMouse Pro Wireless is directly hardwired to every action the CAD user makes.
This immediacy and precision are maintained when running off its rechargeable lithium polymer battery, providing up to three months of worry-free wireless use between charges.
*Battery life based on 8 hours per day, 5 days per week use.


Universal Receiver

Bluetooth


Wired
TRIPLE CONNECTIVITY
Either via Bluetooth® Low Energy, the 3Dconnexion Universal Receiver, or micro USB cable, CadMouse Pro Wireless offers convenient connectivity wherever you are.
PROFESSIONAL SCROLL & ZOOM NAVIGATION IN CAD
CAD professionals need to zoom in-and-out of 3D environments with precision, and an ability to scroll through long
documents with control and efficiency during a fast-paced workday. Thanks to the improved 3DxWare 10 Software,
conveniently located QuickZoom buttons, and the advanced Smart Scroll Wheel 2, CAD users will experience
meticulous control of their drawings and 3D images, and easy document navigation tailored to their needs.

Smart Mouse Wheel 2
Adjustable smart scrolling speed with inertia in documents and browsers is ideal for working in many-paged documents, allowing the user to find specific pages quickly and easily.

QuickZoom
The QuickZoom feature is easy to use; simply press the thumb buttons to zoom in and out of the cursor's position in your drawing or 3D model; fine tune the zoom level by continuing to keep the corresponding button pressed.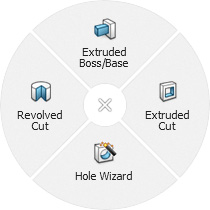 Radial Menu with 4 sections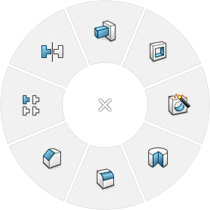 Radial Menu with 8 sections
EASY ACCESS TO APPLICATION COMMANDS
Clicking the Gesture Button behind the Smart Scroll Wheel 2 opens an application or environment-specific radial menu, giving CAD users access to their favourite commands with a simple mouse gesture. The 3DxWare 10 software allows custom radial menus for each environment.
TAILORED CARRY CASE INCLUDED
Built and tested in the 3Dconnexion labs, the compact, lightweight, semi-rigid carry
case  transports CadMouse Pro Wireless easily and safely for the modern CAD
professional on the move.
SINGLE DRIVER. MULTIPLE DEVICES.
3DxWare 10 is the single driver foundation for all 3Dconnexion devices. The simple, yet powerful interface makes it easy to individualize all your 3Dconnexion products for peak performance.
The 3Dconnexion Universal Receiver enables the connection of up to five 3Dconnexion wireless products via one, tiny USB receiver.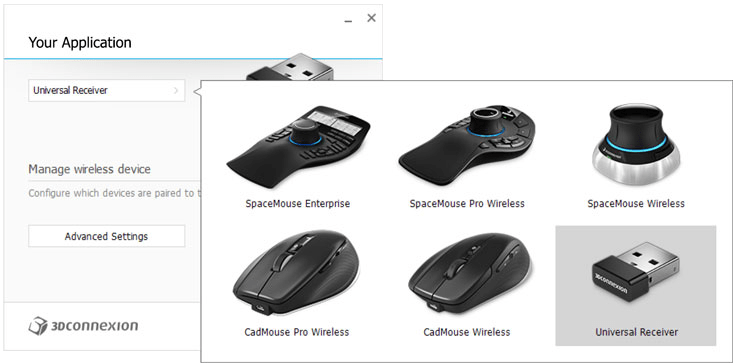 Main Features
7 buttons
Ergonomic shape for comfortable CAD sessions
Specially developed PTFE feet
Smart Mouse Wheel 2
QuickZoom
Customizable radial menu
Sensor
High resolution optical sensor: 7,200 DPI
Adaptive polling rates: 90Hz (Bluetooth),
125Hz (Universal Receiver) and 1,000Hz (cabled)
Wireless & Connectivity
3Dconnexion® 2.4GHz Wireless Technology
Bluetooth® Low Energy
Micro USB Cable
Dimensions & Weight
Length: 126 mm
Width: 74 mm
Height: 44 mm
Weight: 140 g
Battery
Battery life: 3 months
Rechargeable lithium polymer with 1100 mAh
Charging time: 2 minutes for one day of operation
(7 hours for a full recharge)
Warranty
3-year limited hardware warranty
Package Contents
3Dconnexion CadMouse Pro Wireless
3Dconnexion Universal Receiver
Carry Case
Braided micro USB cable 1,5 m
Supported Operating Systems
Microsoft® Windows, macOS
Certifications & Registrations
CE, FCC, RCM, BSMI, ROHS, WEEE, NCC, MIC, IC
*Battery life of up to one month based on 8 hours use per day, 5 days per week.
MADE FOR EACH OTHER
Combining the power of a 3D mouse with a CadMouse creates a synergy of form and function like no other. With
CadMouse Pro Wireless in the right hand selecting and creating with ease, and SpaceMouse Pro Wireless  smoothly
positioning objects and views with the left, users will experience the most ergonomic, efficient CAD workflow possible.